Today I am going to be sharing some Christmas Outfit ideas. I have never done any of these kinds of posts, so tell me if you like these, and I might do more. *None of these photos are mine. They are all from Pinterest.*
The first outfit Is a red sweater with black leggings or black jeans and a messy bun. This is perfect for a Christmas party that is not too casual and not super dressy.
Either of these hairstyles would be cute.
The next outfit is a red/green Flannel with a black/white shirt or a tank top and jeans. Pretty much any jeans would look good with a flannel.
The next outfit is for going out and about. It is pretty much your coat, some jeans, a Christmas scarf (so like plaid or a plain red scarf), and some medium-length boots.
Here are some coats, but a lot of coats would work.
Here is a more (like a lot) laid-back outfit. Grey sweat pants with a Christmas sweater.
Or you could have a plain red or green sweater. It does not have to say a bunch of things or have a design on it.
The next outfit is a White or beige cardigan with a Christmasy theme tee-shirt and Jeans.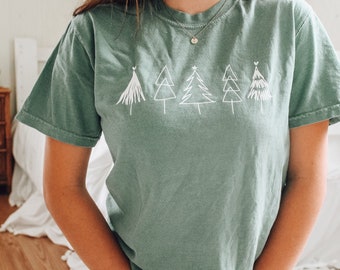 Hope this gave you some ideas about what to wear this Christmas season! Thanks for reading! Have a good day!